Published on 18 August 2023
Use Cases for Bespoke Hydraulic Tanks
Hydraulic tanks are integral to a wide range of industries and applications. They provide essential storage for fluid, and provide a space where your oil is cooled and cleaned of contaminants. Hydraulic tanks are essential for preparing your hydraulic fluid for its next cycle. Here, we cover the importance of bespoke hydraulic tanks and why you might consider investing in one for your hydraulic system.
Hydraulic tanks are available in a number of standardised dimensions from stock, but in some cases, an off-the-shelf hydraulic tank is not the best solution or simply does not fit the requirements of a particular application. This could be due to a number of factors, such as changes, space constraints, port configurations or required functionality.
PCM Transport and Handling has over 40 years of experience in the hydraulics industry, and we offer a wide range of standard and bespoke hydraulic tanks to meet the needs of our customers.
Why Would You Need a Bespoke Hydraulic Tank?
Bespoke hydraulic tanks are beneficial for a number of different reasons:
Improved Performance
A defining benefit of bespoke hydraulic tanks is improved performance as they are designed to fit the exact technical specifications of your system.
Space Constraints
If there is limited space on a vehicle, a bespoke tank may be the only way to ensure that the tank fits properly and still leaves enough room for other components.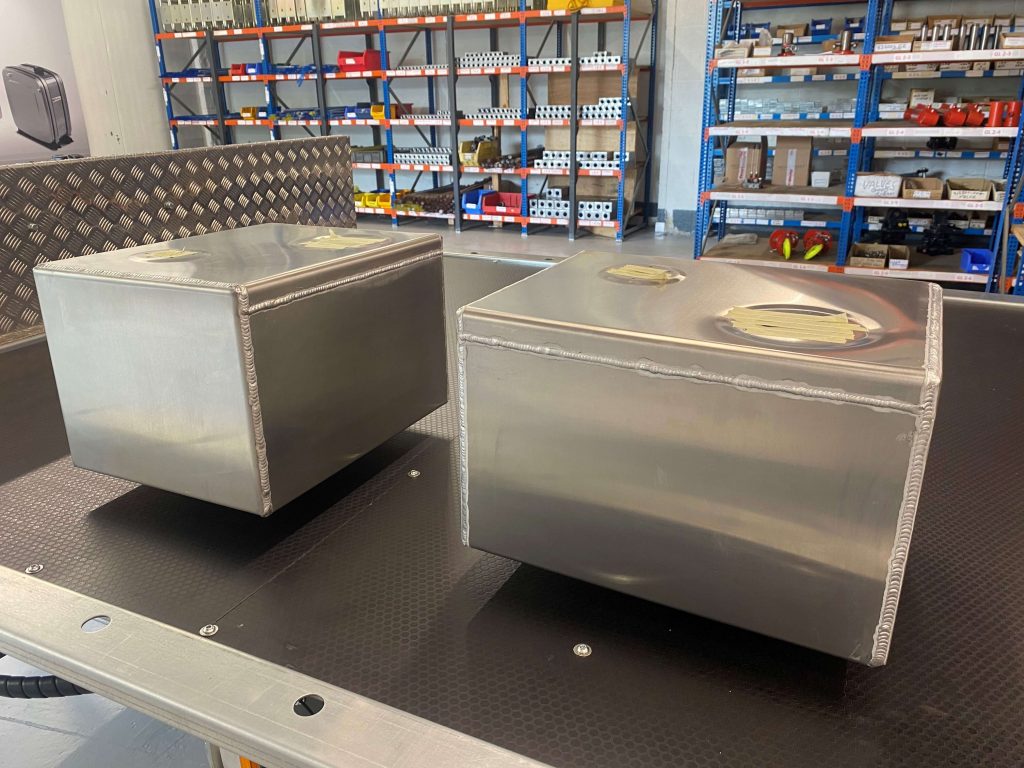 Specific Requirements
The customer may have specific requirements for the tank, such as the size and shape of the tank, the number and size of ports, or the type of material used. A bespoke hydraulic tank may also be required as trucks do not come in one shape or size and often a quality built bespoke aluminium tank will add positively to the overall appearance of the vehicle which is a representation of the business and it's services,
Built-in Functionality
A bespoke hydraulic tank can be designed with built-in functionality, such as steps for the operator to use when climbing up onto the vehicle or cutouts in the tank shape to allow for difficult positioning on the chassis.
Changes in Regulation
Yearly regulation changes are common in the transport and haulage industry. This means that a tank that previously fit may no longer meet the requirements.
Green Initiatives
Green initiatives are always developing across a range of industrial and commercial industries. Frame space availability becomes more restricted every year for example and changes in hydraulic tanks size are necessary.
Application Examples:
Bespoke hydraulic tanks are supplied for a range of applications. Here are some of the most common:
Bespoke Tanks for Bulk Tipping – Bespoke hydraulic tanks are often used on bulk tipping vehicles to ensure that the tank fits the specific dimensions of the vehicle where space can be very limited and to ensure that it can also hold the required amount of hydraulic fluid to allow for effective operation.
Bespoke Tanks for Lorry Loader Crane – Bespoke hydraulic tanks are often used on lorry loader cranes to provide the necessary capacity and flexibility
Bespoke Tanks for Recovery Vehicles – Bespoke hydraulic tanks are often used on recovery vehicles to provide the necessary power and performance for lifting and towing vehicles.
Bespoke Tanks for Ariel Equipment – Bespoke hydraulic tanks play a crucial role in various aerial equipment, such as construction machinery, cranes, aerial lifts, and other heavy machinery.
Bespoke Aluminium Tanks With PCM Handling
If you are looking for a bespoke aluminium hydraulic tank that meets your specific requirements, contact PCM Transport and Handling today. We are able to produce technical drawings that are based on the capacity and specifications that you require, alongside material specifications, mounting features, port configurations and more. 
We have a team of experienced engineers who can work with you to design and manufacture a tank that is perfect for your application. This lead time of bespoke aluminium tanks is 10 – 14 days. Each tank undergoes stringent quality conformance tests to ensure it is in line with our own high standard.
Contact us today to learn more about our bespoke hydraulic tanks and services. We look forward to hearing from you!