Published on 31 October 2022
Combination tanks are useful tools in the transport industry and they help to save valuable weight and space on your vehicle. They combine a hydraulic oil tank that stores hydraulic oil required for the operation of ancillary equipment together with the vehicle fuel tank. Here, we're going to explain what a combination tank is, what the benefits of using one are and how you can purchase one for your vehicle or machinery.
What Is A Combination Tank?
A combination tank – also known as a combi-tank or a mixed tank – is a type of tank that holds hydraulic fluid and fuel. They are designed to find a solution to the issue of space and weight, both of which are common problems in the transportation and logistics industry. They are designed with one tank that holds both fuel and oil separated through a watertight baffle. 
The combination tanks available from PCM are always manufactured in accordance to the constantly updated specifications and will always utilise the newest technologies. Tanks will be manufactured from the finest raw materials and will be submitted to two different tests to guarantee their quality.  
Why Should I Invest In A Combination Tank?
The key benefit of a combination tank is that it saves both space and weight, both of which are extremely important. Keeping weight in trucks as low as possible is a good way to increase efficiency and reducing weight means that vehicles can carry more and are more productive
Trucks are specifically designed to carry large weight limits, but there is always a certain weight limit that shouldn't be exceeded. Going above the specified weight limit can cause failures in your vehicle, such as tire blowouts, brake malfunctions, rollovers and more. An overloaded truck will be more difficult to control and make it harder to stop and manoeuvre safely.       
A truck that is over its exceeded weight limit will cause extreme risk to any other road user, no matter whether they're a cyclist, pedestrian or motorist. Not only is this extremely dangerous to you and anyone else on the road, but any accident that is caused because of overloading will be the direct fault of the company or party responsible. Even if you are found to be over the limit by a small amount, you will be liable for any damage or medical accidents. This is why reducing weight by as much as possible is absolutely crucial.
Saving space is also a major reason to invest in a combination tank. Making the most of the space on your vehicle is absolutely essential in modern-day HGVs. Many now have the addition of Ad-Blue tanks and larger exhaust systems which means the space available on the chassis is becoming increasingly limited. This limited space means that a combination tank is needed to fit other essential transport equipment in your vehicle.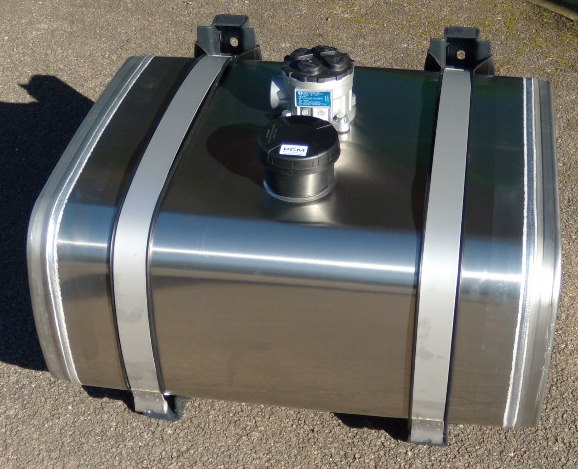 Choosing The Best Combi-Tank For The Job
If you're trying to determine whether you need a combination tank or a regular hydraulic oil tank for your truck, then there are some things to consider. Because space is limited on modern-day trucks, a combi-tank is a great way of making the most of the space available. They hold two necessary substances in a tank with smaller dimensions, without reducing the overall capacity. 
You will also need to consider other technical requirements of the application and vehicle/machinery. This includes body length, the capacity of the oil and diesel required, suction connections, and returns in the oil partitions by way of example.
For more information on the combination tanks on offer from PCM Handling, please contact us directly. Visit our contact page to submit an enquiry, or phone us directly at 01327 842808.