Published on 24 May 2023
What Are Multi-Purpose Grabs?
Multi-Purpose Grabs – also known as excavator grabs or selector grabs – are universal pieces of equipment in the construction field used for sorting, demolition and transporting tasks. They are used for safely and easily lifting and moving materials such as bricks, concrete blocks, rubble or even small pieces of scrap metal.
A multi-purpose grab features large jaws that apply pressure to either side of an object or pile of mixed materials. Operators are then able to grab, select, handle, move, rotate and lift materials. They feature a heavy-duty structure, full 360° hydraulic rotation when supplied with correctly specified rotator and linkage and have a wide grab area. The unique design of the grab creates excellent wide opening geometry allowing rapid productivity.
What Industries Use Multi-Purpose Grabs?
Multi-purpose grabs are essential for construction tasks that involve the selection, handling and transportation of materials. Our RiteSpec Serie BSG is a versatile bucket which is suited to building, earthmoving and recycling tasks.
These grabs are also widely used in the demolition industry for primary stripping works and then the subsequent clearance of sites. In the recycling industry, multi-purpose grabs are a useful partner for the sorting and selection of skip and other waste products in waste transfer yards.
Multi-purpose grabs are essential to the construction industry as they enable workers to move large amounts of materials quickly and efficiently. Bricks, earth and rubble are heavy and cumbersome building materials and a durable, robust handling tool is required. Materials can be transported around a site, or onto or out of a larger tipper lorry.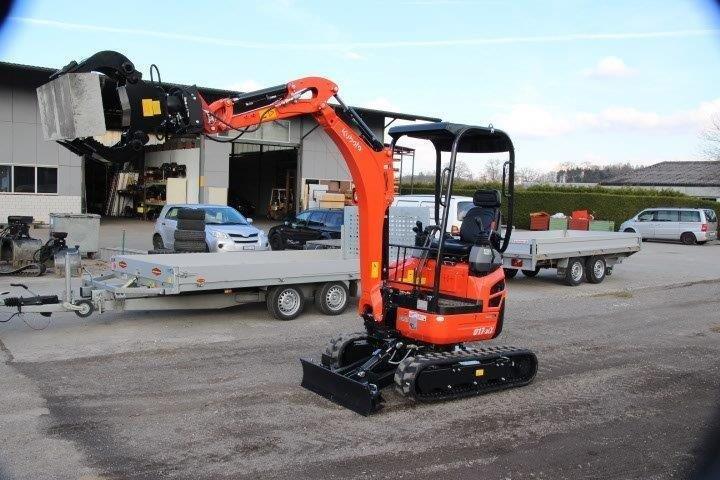 What Multi-Purpose Grabs Do PCM Stock?
PCM Handling stocks the RiteSpec Serie BSG. These hydraulic grab buckets are specifically designed for moving and transporting bricks, concrete blocks and mixed materials and have a maximum lifting capacity of 2000kg for BSG 750 and BSG 750 TG models. Our multi-purpose sorting grabs are available for 1-tonne through to 10-tonne machines.
Our RiteSpec Serie BSG has excellent durability for working in tough construction environments. The load jaws are interchangeable according to the given material and the wear blades can also often be changed and reversed. Teeth can also be mounted to the grabs to improve efficiency and reduce maintenance costs. The design of the grabs creates excellent wide opening geometry allowing rapid productivity.
RiteSpec is known worldwide for manufacturing extremely high-quality and robust excavation and crane attachments. Their products are manufactured using wear-resistant steel in the key components to ensure longevity and reduce wear.
Why PCM Handling?
PCM Handling has been delivering specialist equipment to the UK transport industry for over 30 years. We offer a wide selection of crane attachments such as multi-purpose grabs, clamshell buckets, polyp grapples, rotators and much more. PCM are fully focused on the production, expansion and improvement of our ranges in order to provide the very best in transport and handling solutions.
By working closely with our trusted suppliers we are able to be involved with all aspects of the development process, from designing new, cutting edge equipment to improving the quality and performance of our current models. By having a close relationship with our manufacturer we are able to ensure that all of our handling equipment matches the high build quality that our customers have come to expect.
It's essential that you purchase your transport and handling equipment from industry experts that have experience in the field. We will always discuss with you the solutions that are available and offer our expert advice from our knowledgeable team of professionals.
Contact Us Today To Get More Information On Our Multi-Purpose Grabs
Contact us to find out more about the RiteSpec Multi-Purpose Grab and what it can do for you and your business. Alternatively, browse our wide selection of transport and handling solutions and discuss with a member of our team today.