Published on 27 February 2023
The Different Types Of Crane Attachments 
Choosing the correct crane attachment for your application is a key part of ensuring safety and efficiency in handling operations. Many industries use crane attachments in their day-to-day operations and you'll find a variety of options available to you depending on the nature of the job.
At PCM Handling, we stock a wide selection of crane attachments, including clamshell buckets, log grabs, polyp grabs, hydraulic hooks, brick grapples and forks. We are a leading supplier in our field and our knowledgeable team will ensure that you find the crane attachment that suits your requirements. 
Investing In The Right Type Of Crane Attachment
Choosing the correct crane attachment for your application is crucial. The right equipment will save you both time and money, and mean you get the most from your investment. 
Considerations should also be given to site safety. Accidents may occur when using crane attachments incorrectly, so you should always only use an attachment for its intended purposes and never exceed the maximum weight limits stated by the manufacturer.   
Each of our crane attachments have their own specification and commercial application and should be used in the appropriate way. Clamshell buckets are suited to earth moving and lifting loose materials such as stones, dirt or rubble because of their enclosed bucket design. Polyp grapples or "orange peel" grapples are ideally suited to lifting loose objects that are larger in size, such as whole segments of scrap metal, used tyres or general metal recycling. 
Ritespec Clamshell Bucket
Ritespec clamshell buckets are excellent tools for general construction work such as earth moving, ground clearance, or for loading and unloading large amounts of material. They are named after their two-piece bucket design which forms a clam type mechanism that is used for digging downwards and removing material. They have excellent durability for working in hard and abrasive environments due to their high tensile construction and reinforced bucket shells.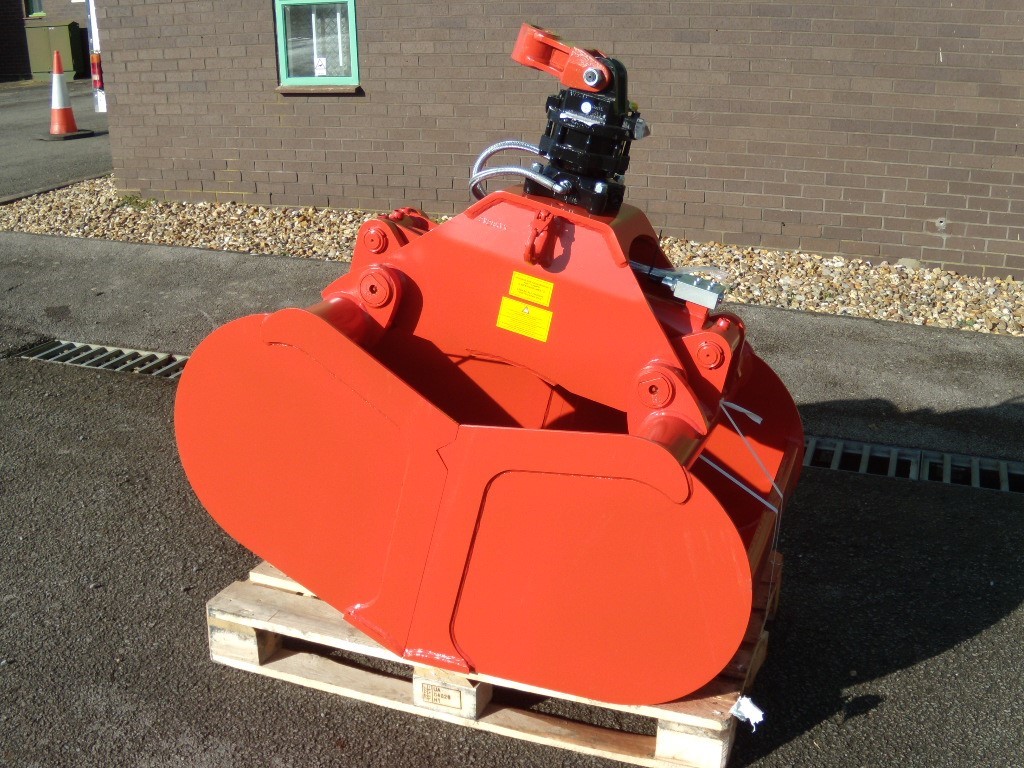 Log Grabs
As the name suggests, log grabs are used for forestry applications, for picking up and moving logs, tree trunks and bundles of timber. They are designed to have maximum grip accuracy and high loading capacity with wide opening widths. Powerful hydraulically powered log grapples allow very tight closing for secure movement of uneven loads. They are of course mostly used in timber handling industries such as forestry work, fencing or building applications. 
Hydraulic Hooks & Links
Hydraulic hooks and links are used to lift, load and unload a wide range of objects and materials. They are found in construction, loading, transport and agricultural industries, or any industry that moves or handles heavy objects with lorry loader cranes. 
Brick Grapples
Brick grapples are designed to lift stacks of bricks on a pallet in a fast, efficient manner. They work in a clamp-like way, through parallel movement where the object is pinned and gripped between two rubbers clamps that sit either side of the cargo. The object can then be picked up and transferred to its destination with ease. Brick grapples are mostly found in the building and construction industries for loading and transporting goods.   
Polyp Grabs
A polyp grab is one of the most versatile crane attachments and is used for any handling of bulk materials. Materials such as scrap, urban waste, construction materials, tyres and more can all be lifted using a polyp grab. The unique "orange peel" claw design is intended to penetrate into the material for a secure lifting of loose subjects. Polyp grabs are mostly found in clearance industries, scrap yards and recycling and construction sites. 
Forks 
Forks are designed for the lifting, handling and positioning of a wide range of materials. They feature multiple large teeth that make them specifically suitable for moving loose materials. Forks are versatile crane attachments and can be found in agricultural industries for moving manure, the recycling sector for handling materials and much more. 
Why PCM Handling?
PCM Handling is one of the leading suppliers of crane attachments in the UK and we only offer machinery that meets our high-quality standards and impressive durability levels. Our PCM Ritespec 500 Grab has now been adopted as the bucket of choice across the country due to its efficient handling and robust design. 
We work closely with our partner factory in Italy to ensure we are always developing and improving our attachments. We always strive to make sure all of our products meet and surpass the needs and expectations of our customers at all times. 
To find out more about our extensive selection of crane attachments, contact PCM Handling today.